Ensuring Equitable Access to HIV Prevention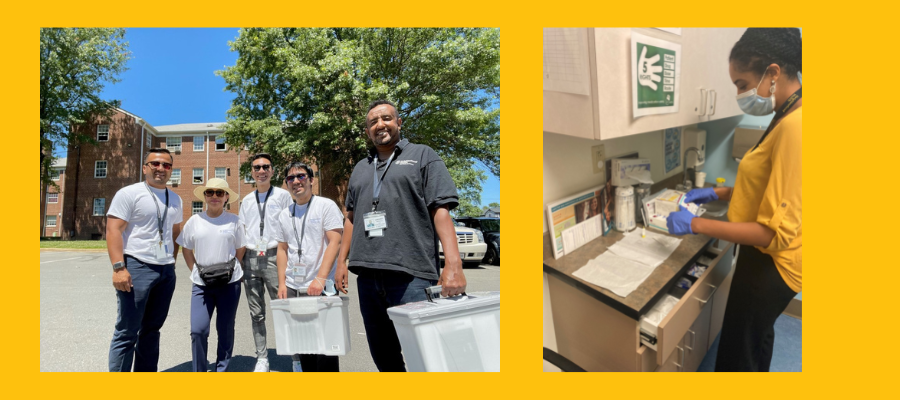 June 29, 2022
The US government has made a commitment to Ending the HIV Epidemic by 2030. Neighborhood Health is excited to help play our part in that effort through several programs aimed at reaching and educating high-risk individuals within the populations we serve in northern Virginia.
HIV Early Intervention Services
Neighborhood Health has a program focused on identifying and reaching people at-risk for acquiring HIV that is funded by the DC Department of Health. This is part of a "Status-Neutral" approach, meaning that we can offer services and linkage to care for all people at high risk for HIV, regardless of actual infection status. Our multi-lingual outreach team focuses on reaching, teaching, testing, linking, and keeping high-risk people in care, whether they are HIV-positive or negative. Our outreach team and medical providers are able to offer comprehensive services – including Pre-Exposure Prophylaxis (PrEP) – to help people who are at high risk for HIV to stay negative.
HIV & STI Testing
Thanks to new funding through the CDC, Neighborhood Health is now able to offer free weekly walk-in HIV and STI testing to the public, with a focus on immigrant, Latinx, and low-income populations. We have started weekly testing at our South County clinic in the Alexandria section of Fairfax County, and at our clinic in Arlandria in the City of Alexandria. The Outreach and EIS teams canvass the neighborhoods ahead of the testing days, encouraging people to come in for testing and education. Individuals can also receive free STI testing for gonorrhea, syphilis, and chlamydia which are often precursor infections for high-risk populations. We will be opening another weekly testing site at our new Annandale clinic soon.
In addition, Neighborhood Health hopes to start offering HIV testing directly in area neighborhoods by taking our mobile van to community events, working closely with some of the local agencies we partnered with during the COVID pandemic, such as low-income housing developments, non-profits, and faith communities.
Neighborhood Health's HIV treatment and prevention programs are here to help the people most in need of accessing care critical to staying healthy. Our teams are rightfully proud of the impact they are making every day in the lives of those we serve.