Ensuring Equitable Access to HIV Treatment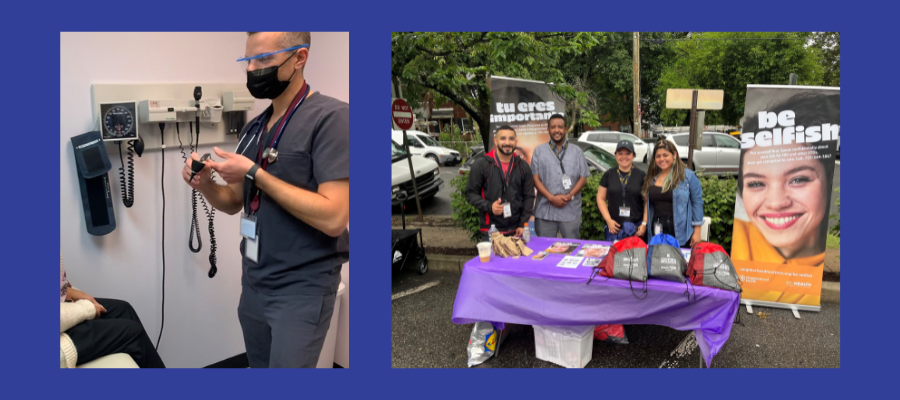 June 29, 2022
"The CDC estimates that about 1.2 million people are living with HIV in the US, of which 13% do not know they have HIV. An estimated 34,800 new HIV infections occurred in the US in 2019. In order to end this epidemic and stop the spread of HIV, we need to test those at risk, offer easy access to care (especially those who are disproportionately affected like Blacks/African Americans and Hispanics/Latinx), start those who are diagnosed with HIV on antiretrovirals, retain them in care and support them to be virally suppressed."

Dr. Giorgos Hadjivassiliou, Neighborhood Health Infectious Disease Specialist
Ryan White* Program
Neighborhood Health has operated a successful Ryan White HIV/AIDS treatment program since 2013. Our dedicated team of case managers and clinicians offer comprehensive services to more than 330 of our neighbors who are living with HIV. Black/African American and Latino communities are disproportionately affected by HIV. (Impact on Racial and Ethnic Minorities – hiv.gov) 92% of Neighborhood Health's Ryan White clients are people of color.
A key measure of success in HIV treatment is the viral load (VL) suppression rate. Reaching viral suppression means that the amount of HIV in the blood is undetectable, which helps clients stay healthy, and virtually eliminates the risk of passing HIV to others. Neighborhood Health's Ryan White program has an excellent VL suppression rate of 95%. In comparison, the VL suppression rates of all Ryan White programs in the country (2020 VL Suppression Rates) and in Virginia (VDH Neighborhood Health Ryan White QI Report, Feb. 2022) were both 89%. The overall HIV VL suppression rates, which would include non-Ryan White clients, are considerably lower. This shows just how effective the comprehensive, wrap-around services provided by Ryan White-funded programs are in achieving VL suppression, improving the overall health of our clients, and helping to end the HIV epidemic.
The Ryan White services offered to clients that are provided at Neighborhood Health clinics are primary medical care, specialty HIV medical care, behavioral health services, dental health care, and case management services. Access to HIV medications is provided with funding from the Virginia Department of Health, essentially making HIV medications free to eligible clients, regardless of their health insurance coverage status. We are also able to provide free transportation for medical appointments, interpreter services, and emergency financial assistance for food, rent and utilities, and some non-HIV medications.
Our Ryan White Medical and Non-Medical Case Managers work closely with each client to assess their needs, identify any potential barriers to care, and develop a personalized treatment plan with the client to help overcome those barriers. This treatment plan includes helping clients apply to receive all public benefits for which they qualify (such as Medicaid and SNAP) and providing them with guidance on their medication regimens and side-effects so that the patients are engaged to follow protocols.
Neighborhood Health's Ryan White Program has a very successful track record of connecting newly diagnosed clients into care and treatment very quickly. The national guideline is to connect people to care within 30 days of diagnosis. Our team is generally able to link people to care within a few days. We also offer them the option of participating in the Rapid ART Start process. ART stands for Antiretroviral treatment. The idea is to connect newly diagnosed clients or clients re-engaging into care to HIV medications as quickly as possible. In doing this, we can improve the retention-to-care of these clients and achieve improved health outcomes sooner than if ART treatment were delayed. These clients meet with a Medical Case Manager and their HIV medical provider to discuss ART and all their options so that they can make their decision with as much information as possible.
Responding to the COVID-19 Pandemic
In response to the COVID pandemic, and to continue to address the ongoing needs of Neighborhood Health clients while keeping staff and clients safe, the Ryan White case managers quickly transitioned to providing their services remotely. Medical visits were also conducted via telehealth. Due to the success of these virtual offerings, Neighborhood Health will continue to use a hybrid system of remote and in-office visits, depending on the needs of the clients and services required. During the height of the pandemic, we were able to ensure uninterrupted access to treatment by working with our Early Intervention Services team to deliver HIV medications directly to our clients. This prevented any lapse in medication adherence and ensured that our clients maintained an undetectable HIV Viral Load. Our Ryan White case managers worked with clinic staff to coordinate access to COVID testing for our clients either at our clinics or community testing sites. When the COVID vaccines became available, our case managers coordinated vaccine appointments for our clients. The Neighborhood Health Ryan White program COVID vaccination rate is at 88%, considerably higher than the national rate of Covid vaccine uptake which is 67% (CDC).
Minority AIDS Initiative (MAI)
A subset of our Ryan White funding allows the team to give extra attention and offer additional services to HIV+ Youth of Color under the age of 30. The special focus on this population is due to the fact that they are more likely to experience new diagnoses, have more difficulty with adhering to their medications, and also potentially face stigma, mental health worries, and other challenges. We work closely with NovaSalud, a regional HIV services agency, to offer more intensive and comprehensive services to this population in the areas of early intervention and psychosocial services, such as safe spaces to meet, and peer-led support groups. Our MAI-funded services include access to medical appointments, behavioral health assessments and referrals to licensed therapists, medical case management, and substance use assessments and referral for treatment. Neighborhood Health's Ryan White case managers follow these clients more carefully to ensure retention-to-care and medication treatment adherence.
A New Treatment Breakthrough
Neighborhood Health is one of the first agencies in Northern Virginia to make a new HIV treatment available to patients. In 2021, the Food and Drug Administration (FDA) approved Cabenuva, the first long-acting, injectable medication for HIV treatment. It is made up of two medications and requires just two injections every two months. This new treatment has been proven to be just as effective in maintaining HIV viral load suppression as other ARTs without the complicated daily oral medication regimen. The treatment is a good match for patients that have trouble adhering to regular ART treatment and may help some patients maintain viral suppression better. In addition, it may help the mental well-being of patients living with HIV, as they won't have a daily reminder of their HIV status. Not all patients are good candidates for Cabenuva for various reasons, such as other underlying health conditions, possible reactions with other medications they are taking, etc.
Our Ryan White case managers do a lot of work behind the scenes to ensure that the client's insurance will cover Cabenuva. They also assist in coordinating the delivery of the medication to our clinic and set up the appointment needed for the patient to receive the injections in-house from our Nurse case manager. The largest barrier to accessing Cabenuva is in obtaining approval from the client's insurance company to cover the cost. For any Ryan White-eligible client who is uninsured or whose insurance is denying Cabenuva, they may be eligible to receive their Cabenuva through the Virginia Department of Health at no cost.
"The availability of Cabenuva … will change how we manage HIV and deliver HIV services to clients. It is another tool for us to end the HIV epidemic. … I even more excited for what comes next after this; perhaps injections every three months, every six months, or even yearly." – Andrew Torre, MPH, Ryan White Program Manager & QI Specialist
Neighborhood Health's HIV treatment and prevention programs are here to help the people most in need of accessing care critical to staying healthy. Our teams are rightfully proud of the impact they are making every day in the lives of those we serve.
*Ryan White was thirteen when he was diagnosed with AIDS after a blood transfusion in 1984. He advocated tirelessly to be able to return to school and for the reduction of stigma for those infected. Sadly, he passed away in April of 1990. In August 1990, Congress passed the Ryan White CARE Act, which is the largest federally funded program in the United States for people living with HIV/AIDS.