March 23, 2020 – Letter from Dr. Khan, Executive Director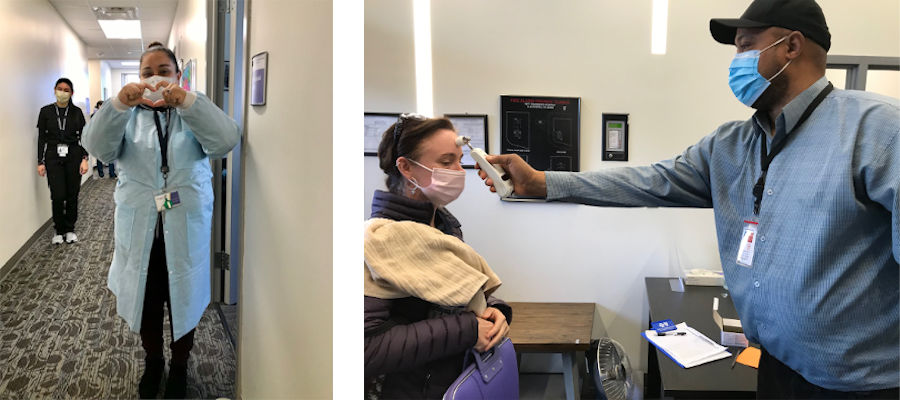 Dear Friends and Supporters,
As the COVID-19 pandemic dramatically affects our community, I wanted to share some updates from us at Neighborhood Health.
Neighborhood Health plays a critical role in the lives of some of the most vulnerable individuals and families in Northern Virginia. We provide primary medical care as well as dental care, behavioral health, HIV care, and medication assistance to over 30,000 patients. Most of our patients are low-income, uninsured, and underinsured.
Our patients and their families will be severely affected by this crisis. Many have multiple chronic diseases that aren't on hold during a crisis. Many are at a high risk for severe complications if infected. Many work in highly impacted industries and some have already lost or are at risk of losing their income or having to work without paid leave.
Now, more than ever, they need our care, support, and solidarity. Our patients count on us for their most basic health care needs. It is imperative that we continue to meet their basic health care needs through this crisis, especially given that our emergency rooms and hospitals will be overburdened in the coming weeks and months. We must do our part to ensure that our patients do not have to rely on our emergency rooms and hospitals.
At the same time, we must recognize that these are extraordinarily challenging times for health care workers. They are at the front lines of this pandemic. It is critical that we support them as much as possible, particularly by providing them with adequate Personal Protective Equipment (PPE) and not expect them to take unnecessary risks. While we currently have PPE for our staff here at Neighborhood Health, supplies are limited, and we are unable to obtain new orders of many critical items.
Given this situation, and our absolute priority of protecting our staff and patients, we are making significant changes, effective immediately:
We are changing almost all of our medical and behavioral health care visits to telephonic and virtual visits.
We will not provide onsite medical care at the Alexandria and Gartlan Community Services Boards (CSB) and will provide telephonic care instead.
We are ceasing dental operations, including the ACPS WOW Bus and the portable dental program, except for some limited emergency care.
Other services such as eligibility determination, family support and HIV case management will be conducted over the phone.
Our pharmacy program will remain available to our patients.
Our patients with COVID-19 symptoms are being asked to call and speak with our health care team over phone or video instead of coming into clinic. Currently, we are not offering COVID-19 testing to our patients. This is due to multiple factors, such as the need to conserve PPE and protect staff, limitations in the number of available testing kits, and because testing will have little impact on patient management. We will continue to reassess this decision.
Through the actions outlined above as well as stringent infection control, screening measures, and physical distancing at our clinics, we are tirelessly working to reduce the risk of transmission to staff and patients while at the same time continuing to provide the care that our patients need.
To overcome this crisis on a broader scale, however, more aggressive public health action is needed, particularly at the Federal and State level.
We need far stronger physical distancing measures than the ones that are currently in place in Virginia or nationally. Several states have issued stay at home orders. This needs to be extended to Virginia, the DMV area, and nationwide.
We need to immediately enlist other industries to ramp up PPE production, not only to supply the current PPE that healthcare workers use but also to upgrade and provide them with higher levels of protection as seen in other countries.
We need to rapidly expand testing especially using non-traditional avenues that reduce health care worker risk, such as drive-through or at-home testing. This includes increasing production of testing swabs and reagents.
And we need to dramatically increase our hospital and critical care capacity, immediately.
While I am certain we will overcome this pandemic, decisive and bold action now will reduce its impact over the coming weeks and months.
At Neighborhood Health, we will continue to be here for our patients through this crisis.
As always, we are grateful for your continued commitment and support.
Sincerely,
Basim Khan, MD, MPA
Executive Director