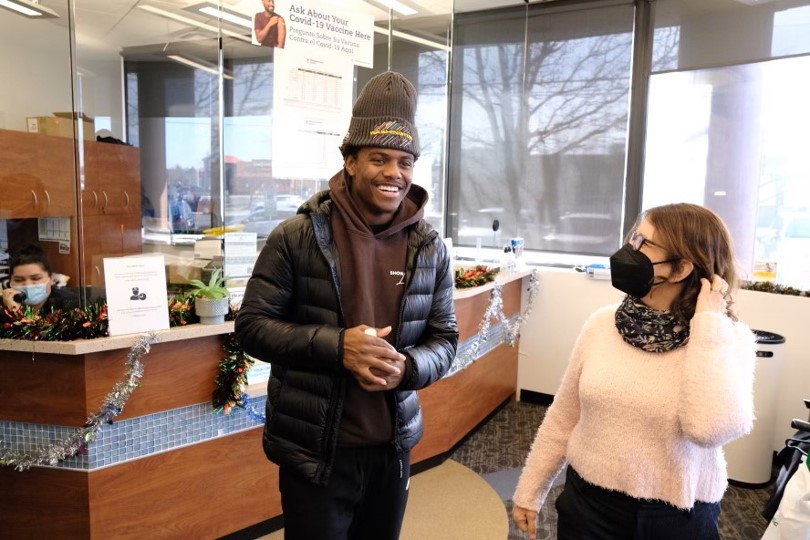 Washington Commanders Star and American Cancer Ambassador Jahan Dotson Spreads Message of Hope and Encourages Early Cancer Screening at Neighborhood Health
WASHINGTON, D.C., Dec. 19, 2022 – Through "Crucial Catch: Intercept Cancer," the NFL and the American Cancer Society (ACS) have teamed up to fight cancer and save lives since 2009. Washington Commanders star wide receiver and American Cancer Society (ACS) NFL Crucial Catch ambassador Jahan Dotson visited a Neighborhood Health clinic in Alexandria. to speak about what the Crucial Catch initiative – making early cancer screening more accessible in under-resourced communities – means to him.
Since 2012, money raised through Crucial Catch has funded the American Cancer Society's Community Health Advocates implementing Nationwide Grants for Empowerment and Equity (CHANGE) grants. These grants help Federally Qualified Health Centers (FQHCs) and health systems in under-resourced areas increase access to cancer screenings. Neighborhood Health is an American Cancer Society CHANGE grantee.
Dotson spoke to Neighborhood Health patients and staff about his personal connection to the cause; in 2021, his mother had multiple myeloma. This season, the NFL rookie chose the American Cancer Society as his "My Cause, My Cleats" charity of choice, sporting pink cleats with the ACS logo and his mother's name on them. Dotson has been outspoken about how cancer has impacted his family and his support of expanding access to early detection screenings.
During the visit, Dotson was joined by Neighborhood Health Executive Director Dr. Basim Khan, who shared how funding through the Crucial Catch NFL and American Cancer Society partnership has helped drive its mission forward.
"We at Neighborhood Health are deeply appreciative to be part of the NFL and American Cancer Society Crucial Catch program to fight cancer through early cancer detection and risk reduction," stated Dr. Khan. "The population that we serve – low-income, uninsured, and underinsured – face many barriers to cancer screening and follow-up care. Programs and partnerships such as Crucial Catch help in our efforts to raise awareness and overcome these barriers."
As a result of the screenings made possible at the facility through the American Cancer Society grant, the Neighborhood Health patients who met with Dotson either found cancer early or were able to prevent cancer. A 40-year-old breast cancer survivor who discovered her need for a mastectomy through early screening at Neighborhood Health stated, "You saved my life. It (cancer) was detected on time. Now, I'm here and can take care of my children. Thank you to Neighborhood Health. Otherwise, they wouldn't have a mom."
Several other patients shared that they had pre-cancerous polyps removed through screening colonoscopies made possible by the Crucial Catch funding. The staff at Neighborhood Health both arranged the screenings and navigated these patients through their treatment.
Neighborhood Health's mission is to improve health and advance health equity in Northern Virginia by providing high quality primary care regardless of a patient's ability to pay. For more than 25 years, the health center has been providing primary care and helping thousands of uninsured, underserved community members – many of whom are Hispanic – get access to the cancer screening and treatment they need.
Research from the American Cancer Society found that cancer is the leading cause of death among Hispanic people, accounting for 20% of deaths. At the same time, the Hispanic community often takes on the largest out-of-pocket costs from healthcare services, leading to medical-related debt. Through the funding and early screening education the Crucial Catch campaign provides, under-resourced communities like those served by Neighborhood Health have more success in catching cancer and treating it early.
To date, Crucial Catch funding has contributed to 600,000 screenings and reached more than 1 million individuals with education, screening reminders and patient navigation.
# # #
ABOUT THE AMERICAN CANCER SOCIETY
The American Cancer Society is the leading cancer-fighting organization with a vision to end cancer as we know it for everyone. For more than 100 years, we have been the only organization improving the lives of people with cancer and their families through advocacy, research, and patient support, to ensure that everyone has an opportunity to prevent, detect, treat, and survive cancer.
ABOUT NEIGHBORHOOD HEALTH
Neighborhood Health is a Federally Qualified Health Center that has been providing medical, dental, and behavioral health services for over 25 years in Northern Virginia. Its mission is to improve health and advance health equity in Alexandria, Arlington, and Fairfax County by providing access to high-quality primary care regardless of ability to pay. In 2021, Neighborhood Health served more than 32,000 mostly low-income uninsured and underinsured adult and pediatric patients at its 15 locations.
MEDIA CONTACTS
Jane Downing Knops – jknops@nhnva.org