Neighborhood Health Pediatric Outreach Project Wins National Prize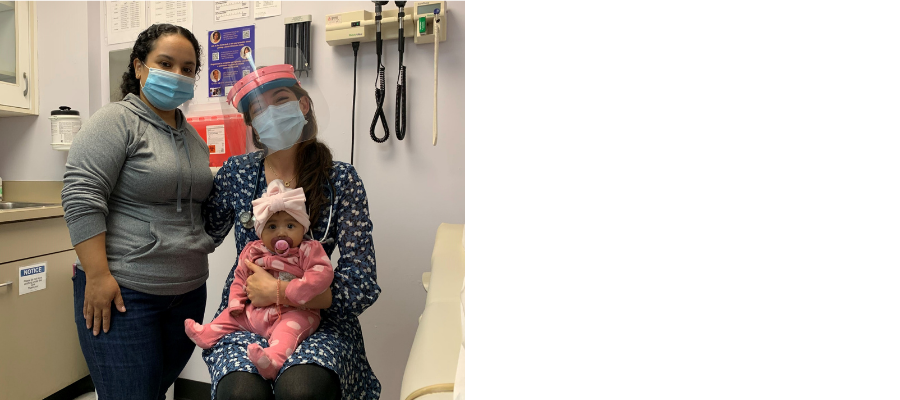 February 26, 2022
Last spring, Neighborhood Health's Casey Clinic pediatrician Dr. Carolina Saldarriaga Perez (seated in photo) responded to a request from the Maternal and Child Health Bureau for innovative ideas to bring pediatric patients who fell behind on their care due to the COVID-19 pandemic back into the clinics to get caught up on their care. The Promoting Pediatric Primary Prevention (P4) Challenge was a nationwide competition to increase pediatric vaccination rates and well-child visits.
Dr. Saldarriaga Perez's proposal to use a text messaging campaign and offer an incentive of gift cards for completed visits and transportation to and from appointments was one of 50 proposals accepted across the country. Neighborhood Health was awarded $10,000 to pilot the program at our Casey and Sherwood Hall clinics.
As part of the project's pilot, the pediatric team offered a Back to School physical day festival on a Saturday in August where 80 children had a well-child visit as well as received backpacks and school supplies.
After a six month pilot of the program, the team submitted the data about the success of the program. A few weeks ago, it was announced that Neighborhood Health's project was one of 20 winners of a $25,000 prize! The prize money will be used to fund the "Reach Out and Read" program at our pediatric clinics. This program provides families with free books for their children at well child visits as well as information about the positive effects of a parent reading daily to their child.
Congratulations to Dr. Saldarriaga Perez and our entire pediatric team!