Ensuring Equitable Access to Comprehensive Prenatal Care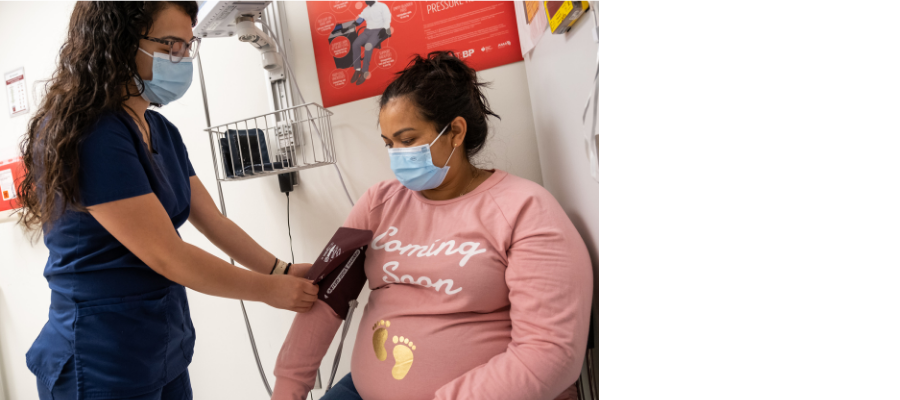 March 29, 2022
Prenatal care is essential for good pregnancy outcomes for both mother and infant.
In November 2019, Neighborhood Health began directly providing prenatal care at the Casey Health Center for the first time in the organization's history. Previously, prenatal services were provided through agreements with partners. We have essentially been providing services these first two years during the COVID-19 pandemic. The prenatal team was able to pivot to a mixed schedule of telehealth and in-person visits to ensure women could still receive needed care both during pregnancy and postpartum. The team has even made great strides in expanding access.
In 2021, the prenatal program served more than 850 women, including 317 who were uninsured. Early entry into care is a key strategy to improving health outcomes and has been a major focus of the team. Prior to transitioning the program to Neighborhood Health, few pregnant women were able to initiate care in the first trimester. By 2021, 65% of pregnant women were able to start receiving care in the first trimester. This increase has been achieved by expanding our prenatal capacity, ensuring community agencies and other partners know about our program, and prioritizing expedited appointments for incoming pregnant patients.
Our team uses a Maternal Medical Home Model as their guide, and "Maricela" is one of our patients for whom this comprehensive care has been useful. Originally from South America, Maricela was excited to be expecting her first child. She transferred her care to Neighborhood Health's prenatal program when she was 21 weeks pregnant because she had lost her health insurance; she was worried that she was not going to be able receive high-quality care without that insurance coverage. Our team immediately sprang into action and Maricela was assisted by one of our Medicaid Enrollers to apply to help cover her pregnancy-related medical costs. Before her Medicaid application was approved, Maricela was able to receive all the services she needed at Neighborhood Health at no cost to her. She took advantage of nutrition counseling from our dietician to ensure healthy eating habits; she also was assessed for perinatal depression and accepted counseling to learn techniques to regulate mood swings brought on by pregnancy. Neighborhood Health even supported her with accessing physical therapy from a community partner agency for pregnancy-related pain by helping her to complete their charity application so that her therapies were affordable for her. Because her family's income is very limited, Maricela received a free crib, baby sleeping supplies and onesies, as well as an infant car seat in the last month of her pregnancy – all items funded by generous donors. As a primary medical home, our providers take a woman's entire health into account during pregnancy. While receiving prenatal care, Maricela was diagnosed with gallstones, and once she gave birth, the prenatal team transferred her care to a Neighborhood Health adult medicine provider who referred her for surgery. Her continuity of care was seamless.
"We recognize that high quality maternal health care doesn't stop at delivery and have implemented campaigns with a focus on patient recognition of postpartum warning signs and how to access timely care to reduce maternal morbidity and mortality. Women are introduced to the importance of primary care during the postpartum period and assisted to continue their care within the maternal medical home created by Neighborhood Health." Certified Nurse Midwife Whitney Osborn, WHNP-BC, Neighborhood Health Prenatal Clinical Team Lead
Thanks to recent changes in Medicaid eligibility in Virginia, all pregnant women who meet income criteria can receive Medicaid regardless of immigration status. This program expansion, plus generous contributions from donors, have had a significant positive impact on the sustainability of our prenatal program.