April 6, 2020 – Letter from Dr. Khan, Executive Director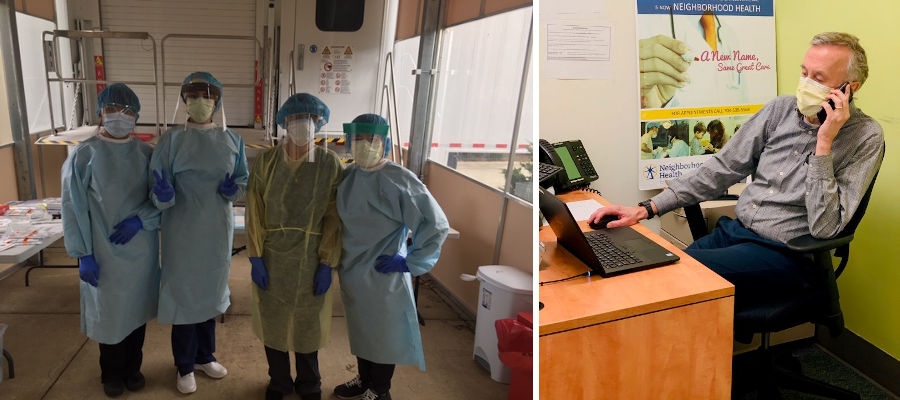 Dear Friends and Supporters,
The COVID-19 pandemic continues to accelerate in our community. At the time of this writing, there have been 4,249 reported cases in the DC Metropolitan area and 90 deaths. In Northern Virginia, there have been 1,186 reported cases and 18 deaths. Nationally, we have passed a grim milestone with over 10,000 reported deaths.
The numbers, however, tell us only part of the story. We are witnessing the devastating impact of this pandemic on many fronts — the pain of individuals who have fallen ill or lost loved ones, the challenges of families who have lost work, and the unprecedented burden being borne by health care workers, first responders, and front line workers in affected areas.
At Neighborhood Health, we serve a population — more than 30,000 low-income, uninsured, and underinsured patients — that will be disproportionately impacted by this crisis. In New York, for example, lower-income neighborhoods in Queens and the Bronx are experiencing higher infection rates. We anticipate the same in Northern Virginia. Our poorer neighbors are not able to work from home or take paid leave. Many live in crowded housing conditions. They are less likely to seek care if impacted.
For our patient population, it is imperative that we respond to this pandemic effectively and continue to provide critical primary care. We must do this while continuing to take whatever steps are necessary to keep our staff and patients in our clinics safe.
Like other organizations, we are facing challenges due to a significant reduction in revenue from our shift to telemedicine and an increase in costs from our coronavirus response. We are grateful for your ongoing support, advocacy, and partnership as we work tirelessly to respond to this pandemic. Some of the ways in which we are responding are outlined below:
COVID-19 Testing: We have begun testing our patients with symptoms for COVID-19. Testing is being conducted outside two of our clinics. We are working on adding more sites soon. Testing is by appointment only and we are asking patients to call to make a telemedicine (phone or video) appointment with a provider for an evaluation first.
Clinic Status: We have kept our clinics at East Glebe Road, Casey Health Center, Richmond Highway, Merrifield Center, South County Center, and Sherwood Hall Lane open even though patients are primarily being served through telemedicine. Walk-ins are not accepted. We have temporarily closed our medical clinics at the Arlington Community Services Board (CSB), Alexandria CSB, and Gartlan CSB while continuing to provide telemedicine visits for these patients.
New Patients: We continue to accept new patients for telemedicine visits. This includes patients with COVID-19 symptoms.
Expedited Eligibility: We are conducting eligibility appointments by phone and implementing an expedited process for new low-income uninsured patients. Current patients with expiring eligibility are being given an extension so they do not have to worry about renewing during this crisis.
Video/Telephone Visits: In order to keep staff and patients safe, we are conducting most visits by phone with a video option (WhatsApp or Facetime) if patients have access. Our patients have responded favorably to the shift to telemedicine.
Behavioral Health: We continue to provide Behavioral Health services by phone or video.
Dental Care: Our dentists are providing phone consultations for our patients with dental concerns with a limited number of in-person appointments for urgent issues after the phone assessment.
Pharmacy Assistance: We continue to provide our patients with low-cost and free medications. We are working with patients to reduce the risk of transmission during medication pick-ups.
Patient Education: We are reaching out to our patients through text messaging to inform them of service changes and provide information on COVID-19. Education is a critical means of preventing the spread of COVID-19 in our patient population.
Other Protective Measures: We have implemented physical distancing and mask use among all staff and patients in our clinics. We have increased the frequency of disinfection. We have also installed glass barriers at our front desks and are conducting pre-screenings at all front entrances.
We need your support! During these challenging times, we continue to look for support, whether through personal protective equipment (PPE) donations or financial assistance. You can find more information here: Support Neighborhood Health
We thank you for your solidarity during these challenging times. Working together, we can and will reduce the impact of this pandemic in our community.
Sincerely,
Basim Khan, MD, MPA
Executive Director