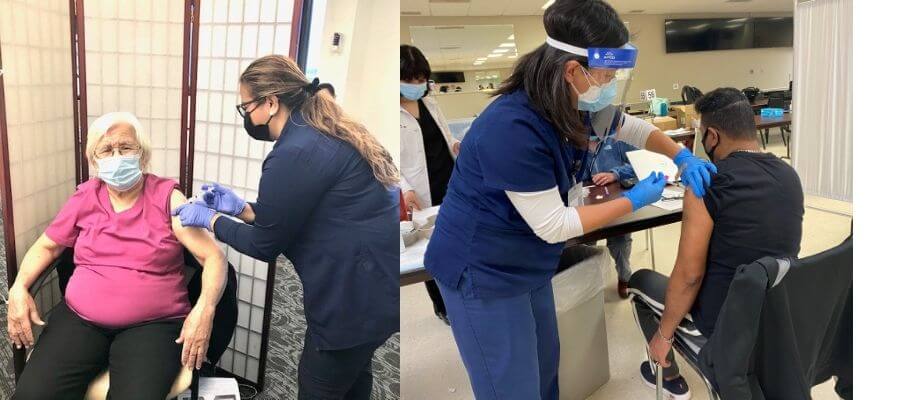 Neighborhood Health is pleased to offer COVID-19 vaccine to existing patients who meet current Virginia Department of Health Criteria for Vaccination.
These include:
Existing patients age 65 and older
Existing patients age 18 – 64 with medical conditions that increase the risk of severe illness from COVID-19.
Existing patients who are Frontline Essential Workers:

Police, Fire, and Hazmat
Corrections and homeless shelter workers
Childcare/PreK-12 Teachers/Staff (public and private)
Food and Agriculture (including veterinarians)
Manufacturing
Grocery store workers
Public transit workers
Mail carriers (USPS and private)
Officials needed to maintain continuity of government (including judges and public-facing judicial workers)
Clergy/Faith Leaders
Janitorial/Cleaning staff

Community partner referrals: In addition, Neighborhood Health is working to increase equity in COVID-19 vaccination by working with community partiers that serve marginalized communities. These include local government agencies, non-profit organizations, faith based organizations, and others that work with the underserved in Alexandria, Arlington, and Fairfax County. All individuals who are referred by community partners need to meet current Virginia Department of Health eligibility criteria.
Please note that our call center volumes are very high at the moment so please do not call if you do not meet the criteria above. We are not able to offer vaccine to non-patients at this time, other than through referrals with partner agencies.
To learn more about Virginia Department of Health Eligibilty criteria, please see the following link: https://www.vdh.virginia.gov/covid-19-vaccine/.
Additional Resources
If you are not an existing Neighborhood Health patient, please inquire about receiving a vaccination from your primary care provider or local health department. In addition, local health departments are working directly with employers to get frontline essential workers vaccinated. People should monitor VDH and local health department websites for latest information on eligibility.
Fairfax County: Covid-19 Vaccine Registration
Alexandria City: Vaccinate Virginia Pre-Registration
Arlington County: Vaccinate Virginia Pre-Registration
Virginia Department of Health: COVID-19 Vaccination Response