In collaboration with community partners, we initially set up seven vaccine clinics in carefully targeted areas of Alexandria, Arlington, and Fairfax County. A simple online referral process was created for use by local community-based organizations. We also began to offer vaccines at all of our medical clinics to anyone who walked in. More than 75 clinic volunteers assisted us, along with Medical Reserve Corps from Alexandria and Fairfax counties.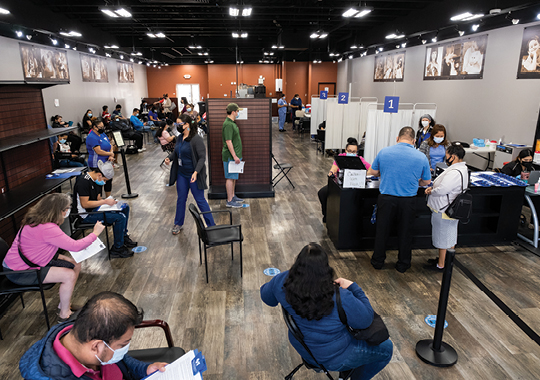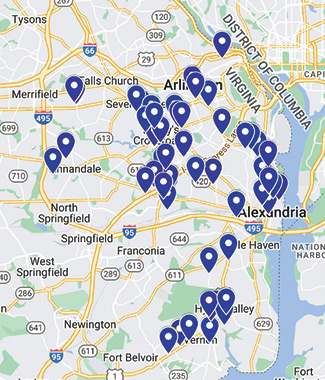 Pop-Ups & Mobile Vaccine Clinics
We brought the vaccines even closer to where low-income populations live and work, hosting events in partnership with low-income housing developments, faith communities, and safety net agencies. We even purchased a vaccine van to continue this work in places without indoor space. Neighborhood Health hired 10 outreach workers to take messaging door to door in the communities most impacted by COVID-19 and with the lowest rates of vaccine uptake.
"Trust is critical for increasing vaccine acceptance among marginalized populations. There are two reasons our vaccine response worked so well: First, we enlisted trusted and familiar messengers—pastors, community service agencies, low-income housing staff. Then, we removed as many other barriers as possible and made the process easy for people."
– Dr. Basim Khan, Executive Director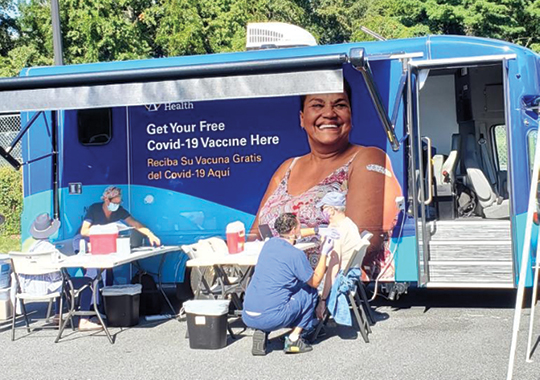 Expanding Access to COVID-19 Therapeutics
Pauline,* a 52-year-old Neighborhood Health patient, takes medication for hypertension, and has impaired kidney function and colon cancer. Due to her cancer treatment, she was unvaccinated against COVID-19.
In January 2022, Pauline went to the emergency room for cancer-related pain and, while there, tested positive for COVID-19. She was at very high risk of developing severe complications due to being actively treated with chemotherapy and unvaccinated. 
At this time, Neighborhood Health had received our first doses of Paxlovid, a COVID-19 oral antiviral that is effective at reducing the severity of symptoms. We were one of the first 200 health centers in the country selected to participate in the initial pilot of the HRSA Health Center COVID-19 Therapeutics Program to ensure equitable access to life-saving medication for communities most impacted by COVID-19.
Neighborhood Health Family Nurse Practitioner Alissa Wong thought Pauline was an excellent candidate for Paxlovid. She worked with Pauline's oncologist and others to ensure Pauline could receive the medication. They coordinated medication changes with our pharmacist, and a staff member delivered the medication to Pauline's home.
Pauline reported that her symptoms disappeared quickly, and she was able to resume chemotherapy. She is grateful for Neighborhood Health having access to the antiviral medication, dispensing it so quickly, and delivering it so she could remain safely isolated at home during her illness.
*Patient name has been changed for privacy.